Eco-responsibility is a genuine commitment for DELABIE. Numerous measures have therefore been put in place within the company to limit its impact on the environment.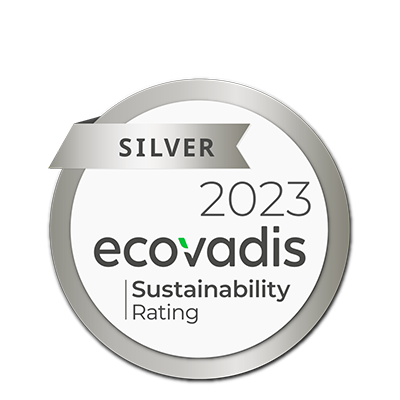 CSR PERFORMANCE
The EcoVadis organisation assessed DELABIE's social responsibility and awarded it the silver medal.
DELABIE is among the top 18 companies within its business sector as assessed by EcoVadis.
This rating focuses on non-financial management systems, and in particular the following:
The environment
Social and human rights
Ethics
Responsible purchasing
DELABIE'S PREMISES
Some of these measures relate to equipment in DELABIE premises. For example, all workshops and offices are equipped with low-consumption LED bulbs to reduce energy consumption by 60%.
DELABIE has also invested heavily in solar panels. 1,200m2of solar panels have been installed on the roof of the factory in order to have an environmentally-friendly energy source. This self-supporting photovoltaic installation has benefitted from the financial support of the Hauts-de-France Region.
In addition, all of the company's washrooms are equipped with DELABIE's time flow and electronic taps to limit water consumption considerably.
OPTIMISED PRODUCTION
The manufacturing process has also been impacted by these measures. Detergents are now used to degrease and wash the components during the bar turning and machining.
These detergents are non-chemical.
DELABIE completely eliminated chlorine-based solvents several years ago. The oils used in the manufacturing process are regularly collected by a company certified in reprocessing this waste.
During the assembly process, the water controls are are tested under real-life conditions using water. This water is then recycled and reused to supply the company's toilets.
DIGITIALISED DOCUMENTS
Most internal documents have been digitalised. DELABIE uses digital documents wherever possible to replace paper documents.
For example, the whole designe process and order entry are paperless. In addition, product installation guides are being gradually replaced by digital installation guides which can be accessed via a QR code on the packaging label. However, those DELABIE documents that cannot be digitized are certified PEFC, which means that the paper used comes from controlled sources and contributes to sustainable forest management.
ECO-RESPONSABLE PACKAGING
The packaging is also progressively more environmentally-friendly. Originally blue and white, the packaging is gradually being replaced by plain kraft cardboard boxes, which are much more ecological. Cardboard packing has replaced plastic bubble wrap.
Plastic tape dispensers have also been replaced by specialist machines which dispense tape made from natural fibres. Finally, the glue used to seal the boxes is based on corn starch.
DELABIE's COMMITTED EMPLOYEES
Some of these measures also affect the employees.
Employees are strongly encouraged to car-share or travel by train to get to their place of work. Working hours have been adjusted to make this possible. DELABIE recently installed charging stations in the car park at it's factory in Friville to encourage the use of electric cars.
Finally, all disposable plastic cups for use by employees have been replaced by washable and reusable cups.