Sequential mixer: safety and comfort for healthcare facilities
Controlling bacterial development in water at the point-of-use and anti-scalding safety are major issues when protecting patients and staff in healthcare facilities, care homes, hospitals and clinics.
Ergonomics are also a key element to take into account to ensure that mixers and taps meet the needs of different users: easy to use and hygienic handling using the wrist or closed fist, elbow or forearm.
Healthcare mixers and taps must, therefore, be developed to meet these very specific needs.
How do the sequential mixers developed by DELABIE meet these expectations?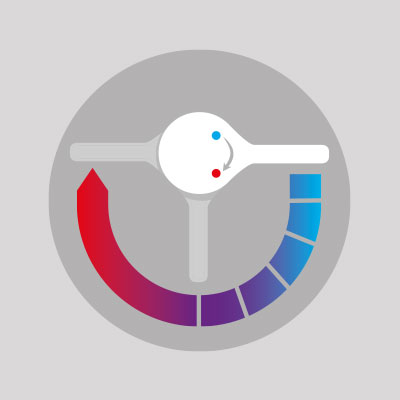 Ergonomics
A sequential mixer is a single control mixer which, with a simple sideways movement of the lever, opens the flow and adjusts the temperature, instead of the sideways then upwards movement of classic mixers. This makes it easier to operate a sequential mixer.
In addition, sequential mixers are fitted with Hygiene levers, i.e. long levers that are specifically designed to be operated by the elbow or closed fist, providing comfort and ergonomics for both patients and nursing staff.
The ergonomics of DELABIE's sequential mixers, therefore, meet the needs of healthcare facilities, care homes, hospitals and clinics perfectly.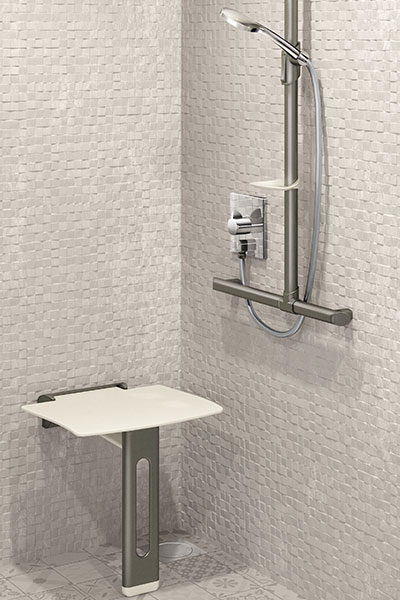 Playing it safe
The sequential mechanism requires the user to open and close the mixer with cold water, which removes any risk of scalding when turning the mixer on. In addition, all DELABIE's sequential mixers are designed to prevent the user burning themselves if they touch the mixer body, because the hot water inlet and internal tube are both insulated.
Finally, DELABIE offers sequential mixers with an integrated thermostatic cartridge which guarantees water temperature stability regardless of pressure or flow rate variations in the system. This cartridge also ensures that the hot water shuts off completely if the cold water supply fails (and vice versa), which eliminates any risk of scalding.
Anti-scalding safety is guaranteed with DELABIE's sequential mixers.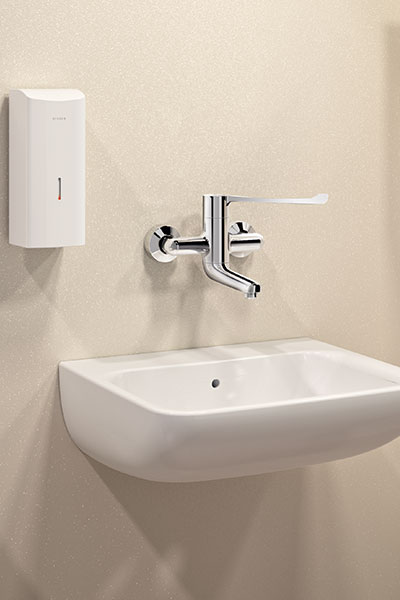 Controlling bacteriological risks
The biofilm that forms naturally in mixers and taps and the pipework contains 99.5% of the bacteria found in the system. Only 0.5% of the bacteria are found in the water. Impossible to eradicate, the biofilm must, therefore, be carefully controlled to prevent the spread of pathogenic bacteria.
DELABIE sequential mixers, both thermostatic and mechanical, have been designed to hold a very low volume of water and to minimise internal niches where bacteria can adhere. This reduces the development of bacteria considerably and, therefore, pathogenic bacteria such as legionella, Pseudomonas aeruginosa, etc.
It has been shown that excessive biofilm often results from the cross flow between the hot and cold water in healthcare facilities. The non-return valves are the main cause, because they fail as soon as debris gets caught in the non-return valve.
This is why the recent French standard NF Medical prohibits non-return valves on mixers.
DELABIE's thermostatic technology works without non-return valves (patented system). No cross flow between the hot and cold water is possible, even after several years of use.
Finally, DELABIE's sequential mixers open with just cold water, which means that samples can be taken for bacterial tests at the point-of-use, unlike all other mixers, which allow a trickle of hot water through as soon as the valve opens.