The Accessibility - Independence range is designed for people with reduced mobility (PRM): the elderly - senior citizens, disabled people... This complete range consists of grab bars and rails, shower seats, tilting mirrors, etc.
The Hygienic accessories range is designed for public and commercial places: toilet roll dispensers, soap dispensers, hand towel dispensers, hand dryers, toilet brush sets, shower curtain rails, etc.
COMFORT, WELL-BEING, ERGONOMICS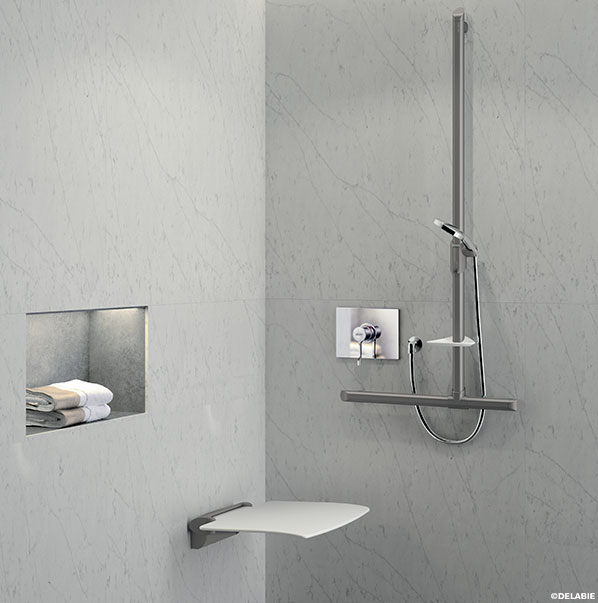 Design for all
DELABIE's Be-Line range of grab bars and shower seats combines aesthetics and comfort.
The innovative design of the Be-Line grab bars and shower seats eliminates the medical (and sometimes stigmatising) aspects of accessible washrooms, leaving only a feeling of well-being, free from any complex, both at home and in the wider environment.
The Be-Line range transcends generations and is suitable for every life stage, regardless of age or level of independence, which makes the shared use of sanitary spaces more agreeable for everyone.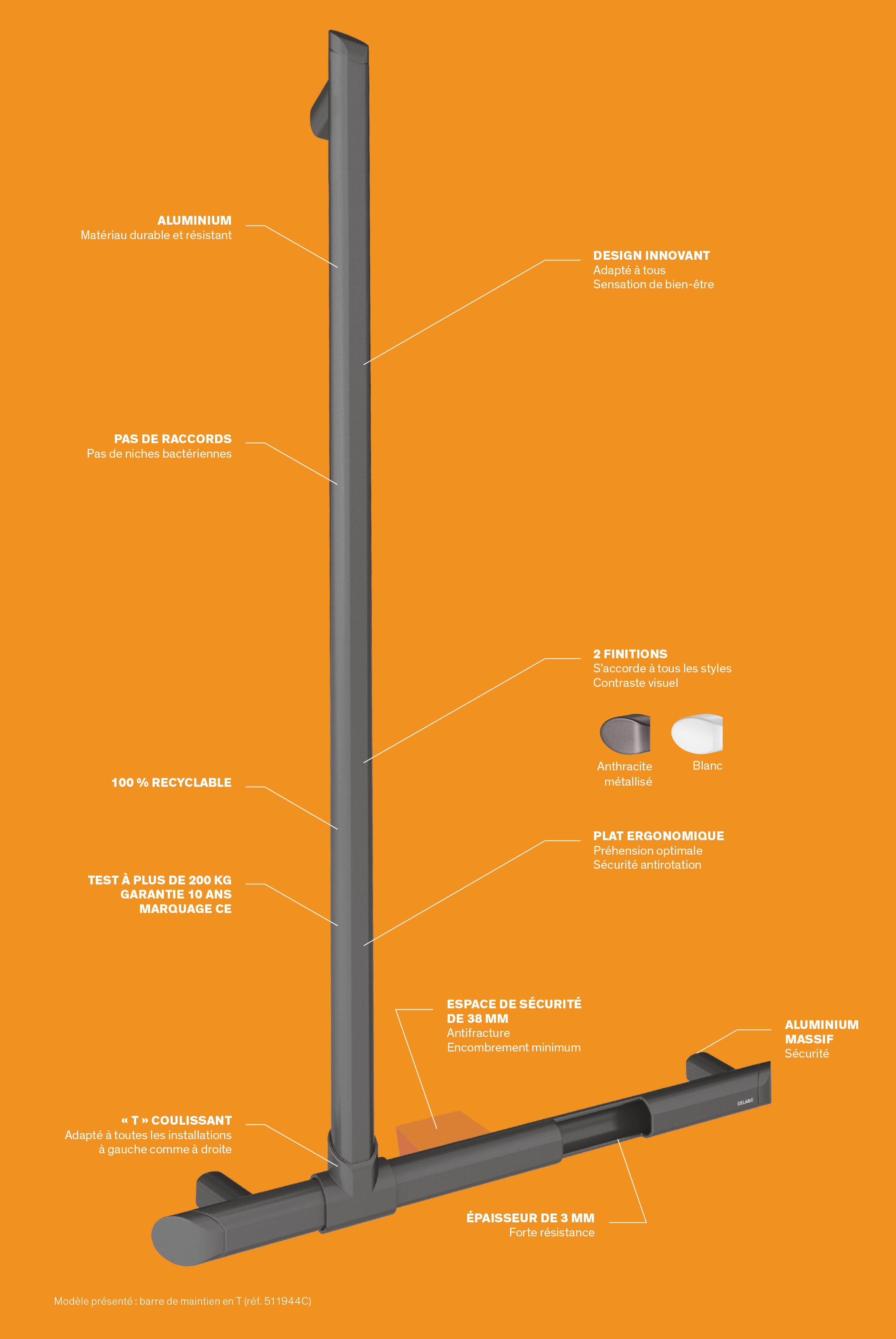 Ergonomics
The DELABIE range of grab bars have 32 or 35mm diameters, which provide an optimum grip regardless of the product destination or user.
The rounded form of the Be-Line grab bars, with an ergonomic, flat front face that perfectly matches the shape of the hand, prevents the hand from rotating and offers greater safety to the user.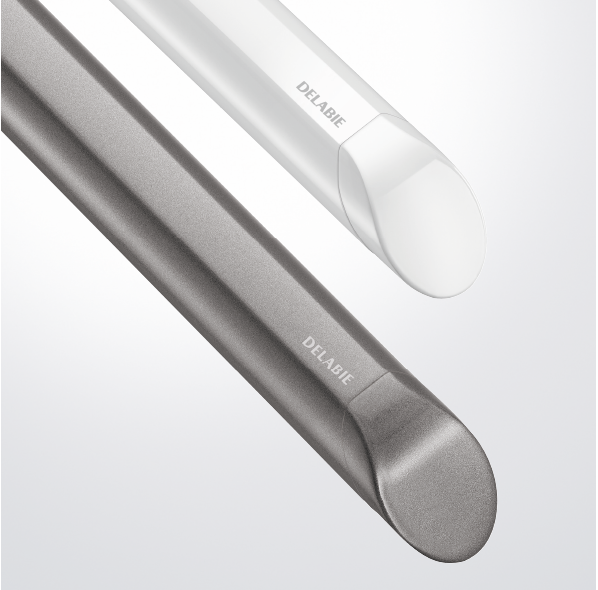 Visual contrast
The Be-Line range of grab bars and shower seats coordinates with all styles and types of material.
It is available in two finishes: metallised anthracite and white aluminium. This choice of finishes ensures a good visual contrast between the colour of the grab bar or shower seat and the wall that the products are fixed to.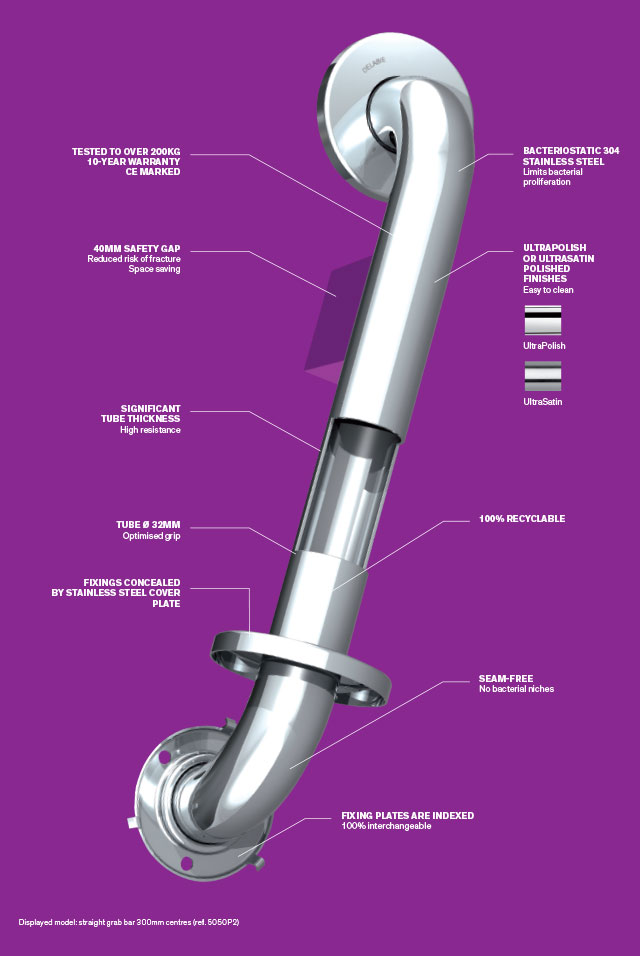 Stainless Steel: a material that limits bacterial proliferation
DELABIE's stainless steel grab bars, shower seats and accessories are made from bacteriostatic 304 stainless steel. This type of stainless steel forms a thin, invisible protective layer on contact with air or water. Even if the surface is damaged mechanically, the stainless steel is protected against corrosion. The surface remains bright, hard and smooth, preventing bacteria from easily adhering to the surface. Bacterial development is therefore slower compared with other materials.
Studies have regularly proven the aseptic qualities of stainless steel. It is ideally suited to environments that demand high standards of hygiene (e.g. hospitals, retirement homes, schools, canteens, etc.).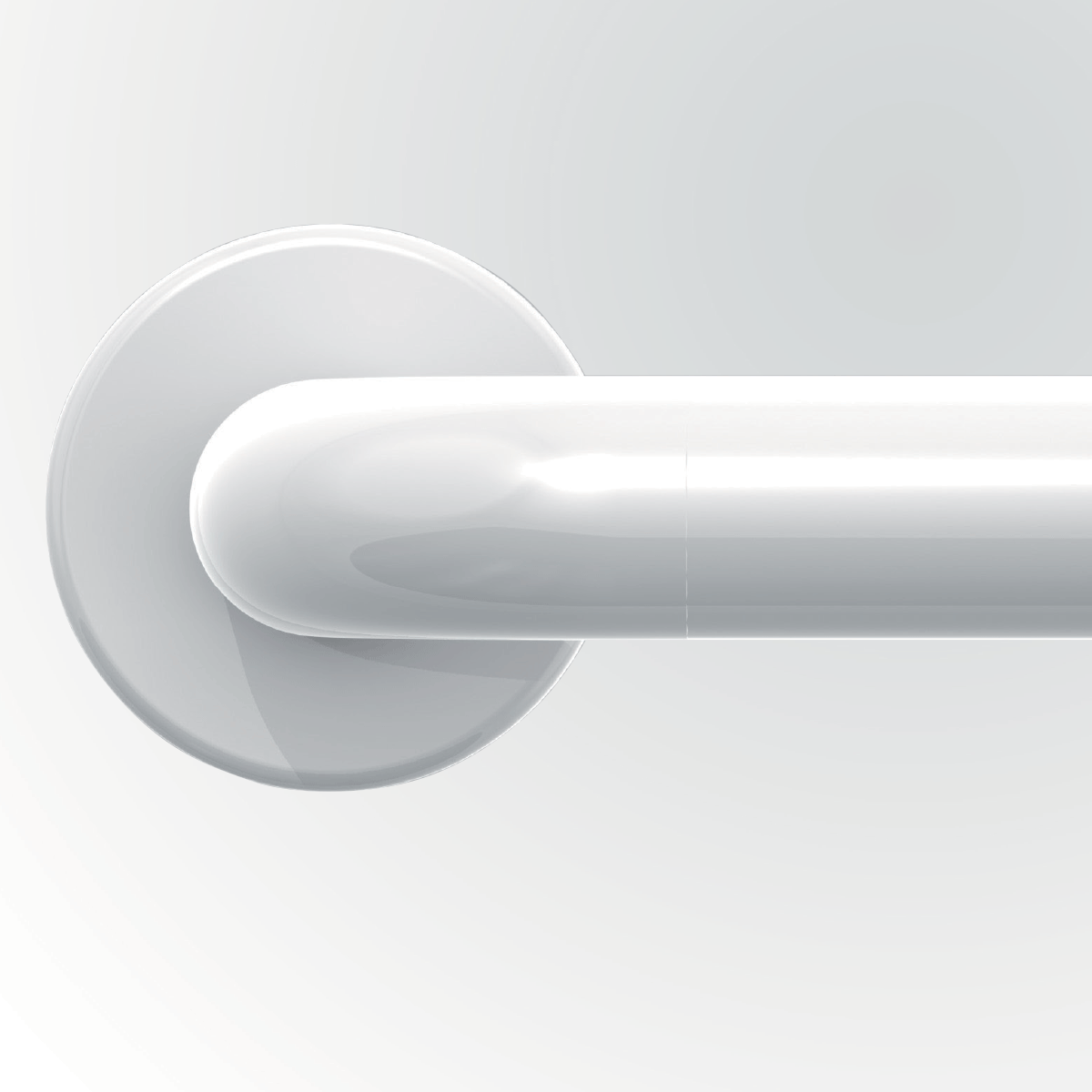 Bright HR Nylon
The Nylon used in the manufacture of DELABIE's grab bars is very high quality. The surface is perfectly uniform and non-porous for easy cleaning, ensuring the highest standards of hygiene. Compared to other synthetic materials it is highly resistant to abrasions, cracks and heat.
Nylon's technical properties are ideal for use in environments where hygiene is of the utmost importance e.g. hospitals, care homes, schools etc.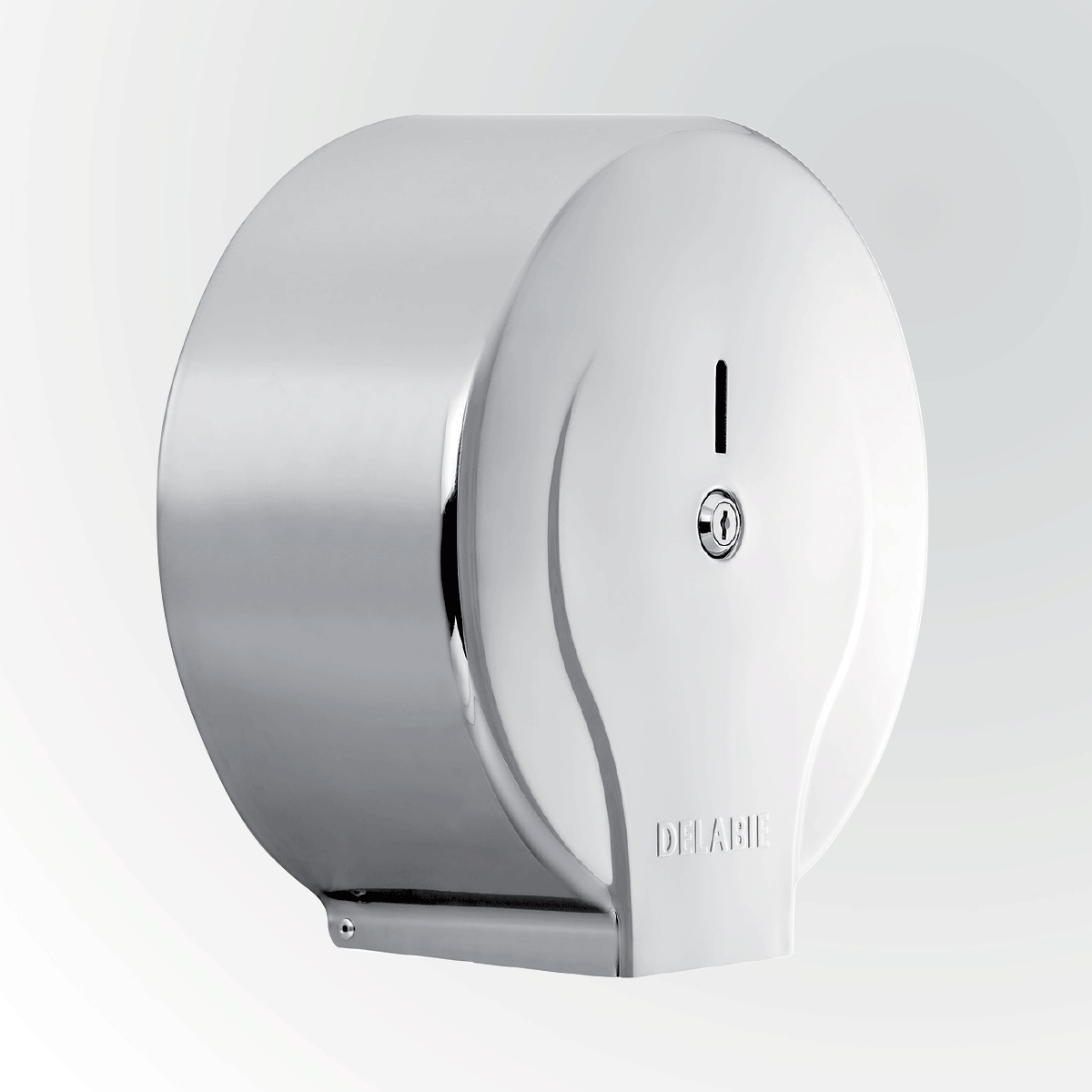 Hygiene-friendly design
DELABIE's grab bars, shower seats and accessories are designed to meet the obvious and essential principle of hygiene i.e. frequent cleaning. One-piece covers with fewer bacterial niches and soap tanks that prevent the soap from stagnating both contribute to effective cleaning and good hygiene.
Particular attention has been paid to the design of the bars to reduce the number of joins and seams, reducing the build-up of dirt and bacterial niches.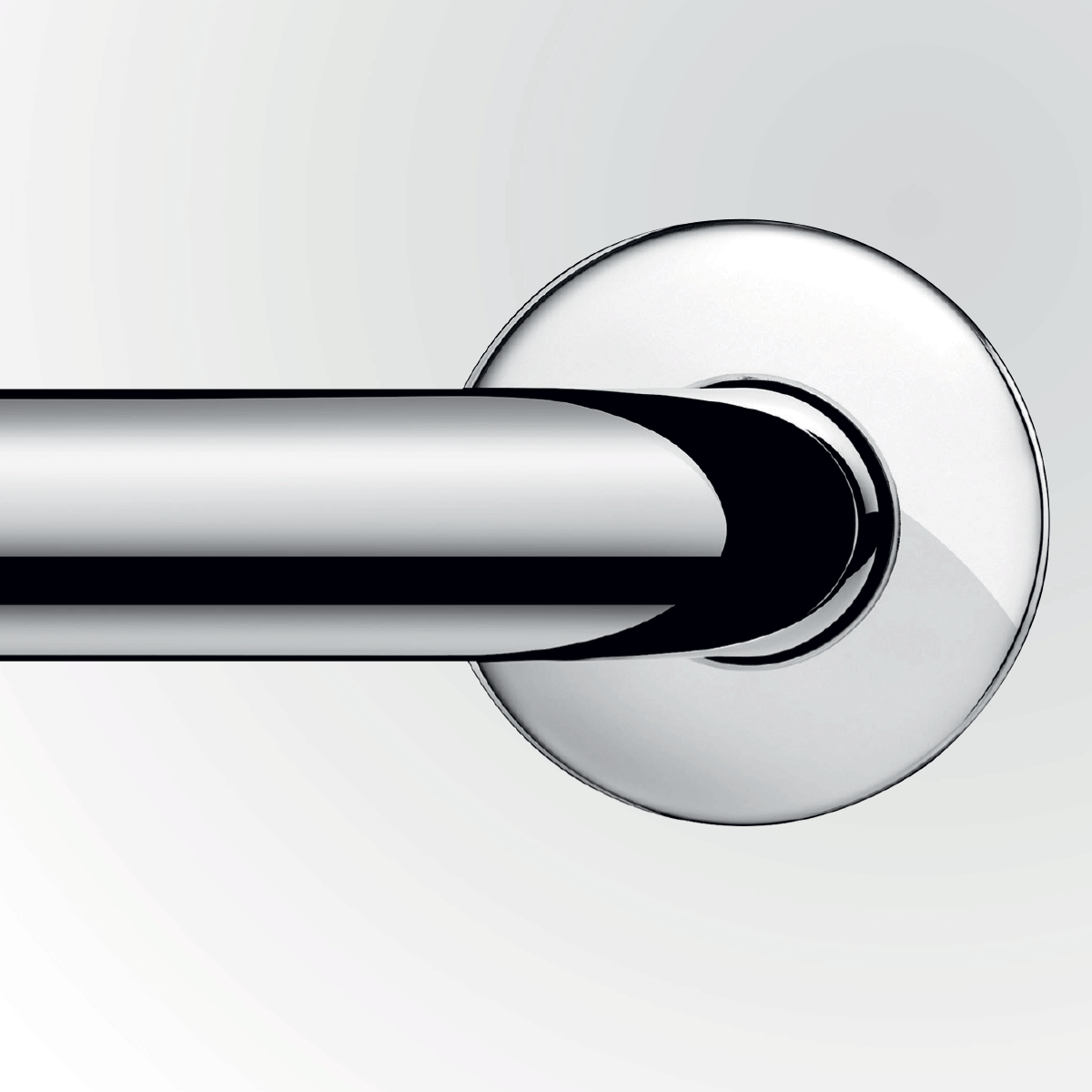 DELABIE's UltraPolish and UltraSatin finishes: cleaning is easy and sustainable
Using surfaces that are easy to clean and disinfect reduces the risk of nosocomial infections. DELABIE's UltraPolish mirror polished finish and UltraSatin satin polished finish provide the grab bars with a uniform, non-porous surface. They are very easy to clean and hence less cleaning product is required. Bacterial retention after cleaning is extremely low, up to 20 times less than for other materials such as glass or plastic.
Studies show that after several cycles of daily soiling and cleaning, polished stainless steel retains less dirt and fewer residual bacteria than copper which also has bactericidal properties. Copper surfaces degrade over time, making them more difficult to clean. Polished stainless steel provides better hygiene by facilitating sustainable cleaning.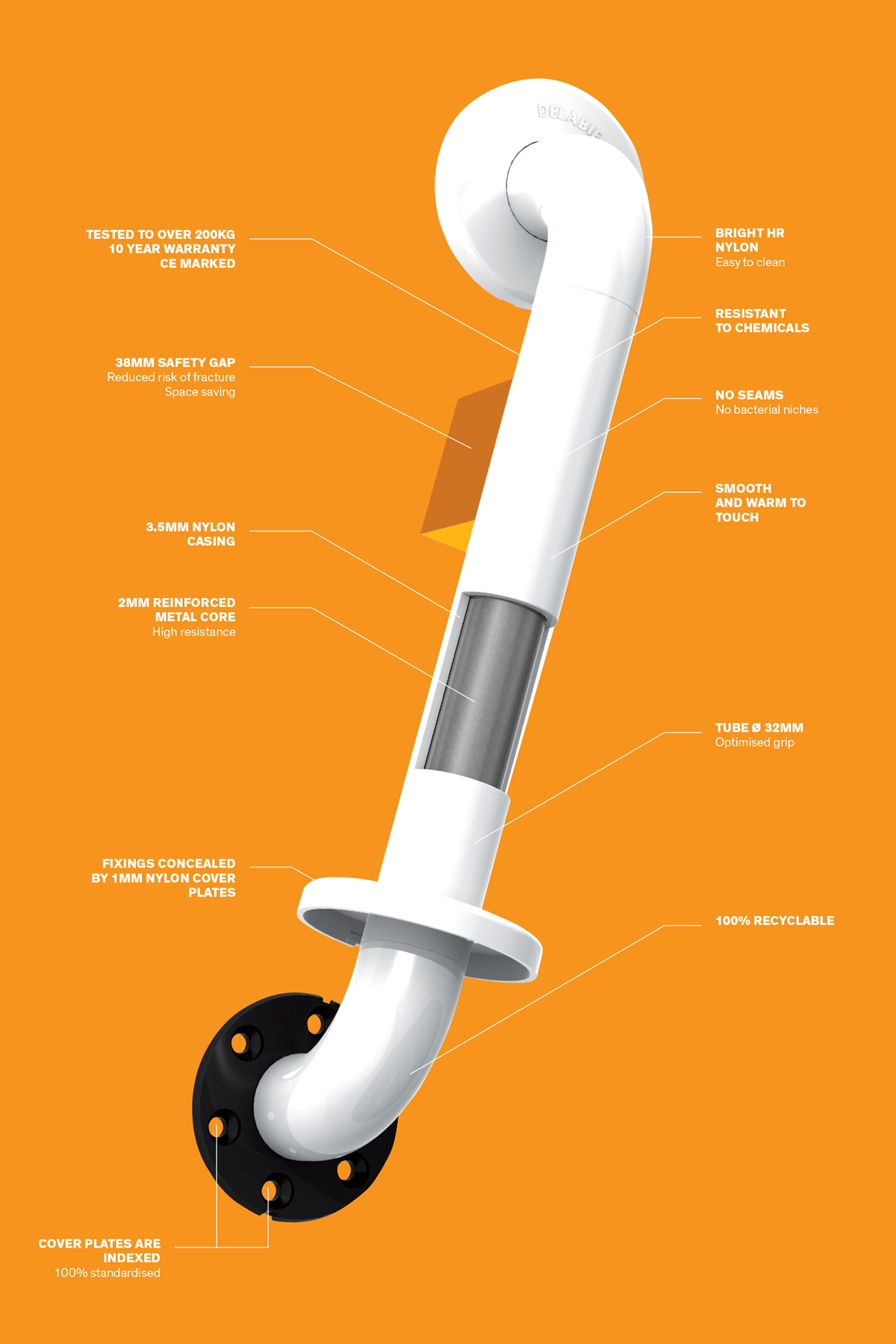 HR Nylon: Resistant to chemicals
DELABIE's Nylon products will withstand the main cleaning products used in hospitals and commercial environments.
SAFETY PACK: Tested to over 200kg, 10-year warranty, CE marked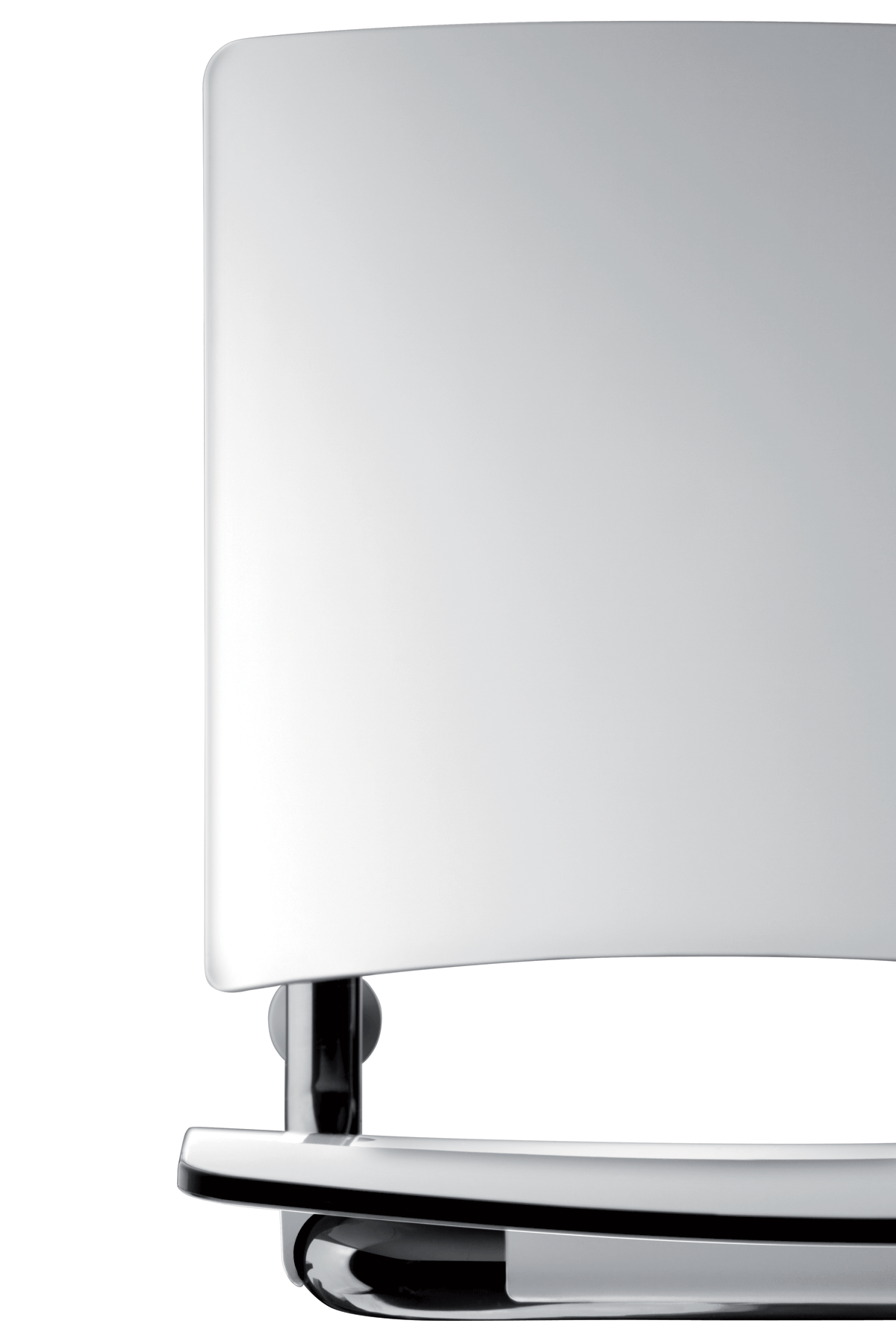 Tested to over 200kg
According to the WHO, 1.4 billion people over 20 around the world are overweight. By 2030, the number of people considered to be overweight is expected to reach 3.3 billion. In public and commercial places, the user's weight is unknown. The products installed should, therefore, be able to resist any circumstances. All DELABIE grab bars and shower seats are tested to over 200kg, for a maximum user weight of 135kg. Some grab bars have even been tested to 250kg for a maximum user weight of 170kg.
10 year warranty
DELABIE's products are suitable for intensive use in all types of public or healthcare buildings.Stainless steel is a noble metal alloy (chrome, nickel and steel) which has no surface treatments so if it gets scratched or cut there is no risk of rust appearing. DELABIE products remain in perfect condition throughout their lifetime. Colour is added to the Nylon during manufacture. An anti-UV treatment prevents products from yellowing or ageing prematurely when exposed to strong light. DELABIE's Nylon products remain in perfect condition throughout their lifespan.
CE marked
DELABIE grab bars and seats are CE marked and conform to European Directive 93/42/EEC that relates to medical devices, and meet the requirements of the European standard EN 12182:1999 "Technical aids for disabled people".
This provides an additional guarantee for product users.
40mm safety gap
The elderly or people with reduced mobility can easily lose their balance and fall. Limiting the gap between the bar and the wall to just 40mm prevents the forearm from getting trapped and significantly reduces the risk of fracture.
The grab bars are close to the wall and require less space, improving access and movement within the sanitary facilities (showers, toilets) and making them more discreet.
High resistance to vandalism
The stainless steel used for DELABIE's hygienic accessories is generally thicker than most products available on the market. Inside the grab bars a continuous internal tube, made from 2mm thick steel that has an anti-corrosion treatment, reinforces the 3.5mm thick Nylon casing.
This robust design offers a high level of vandal resistance, appropriate for places subject to intensive use.
To prevent theft, very common in public facilities, many of DELABIE's hygienic accessories feature concealed fixings and/or locks with a key.
Suitable for intensive use
All DELABIE's products undergo performance tests under extreme conditions. They are specifically designed for intensive use in all types of highly frequented public and commercial places.