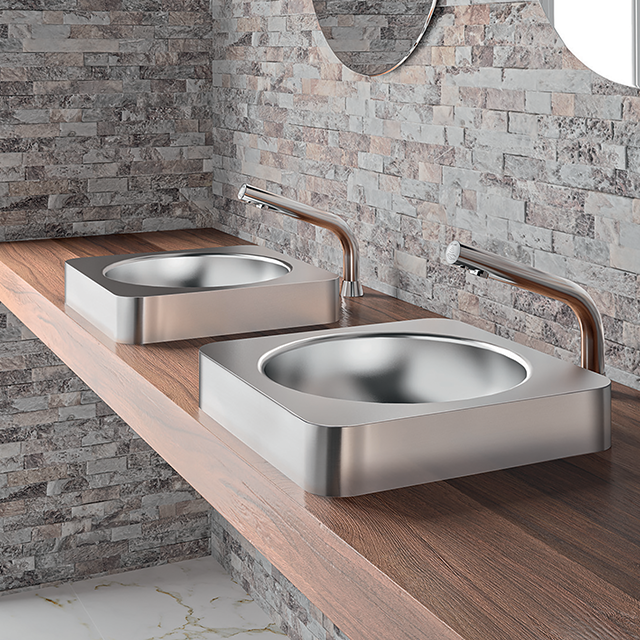 In public places, washrooms must be able to withstand intensive and often heavy-handed use. Primarily designed to be robust and easy to maintain, sanitary furniture has evolved, gradually integrating an element that is becoming increasingly important: aesthetics.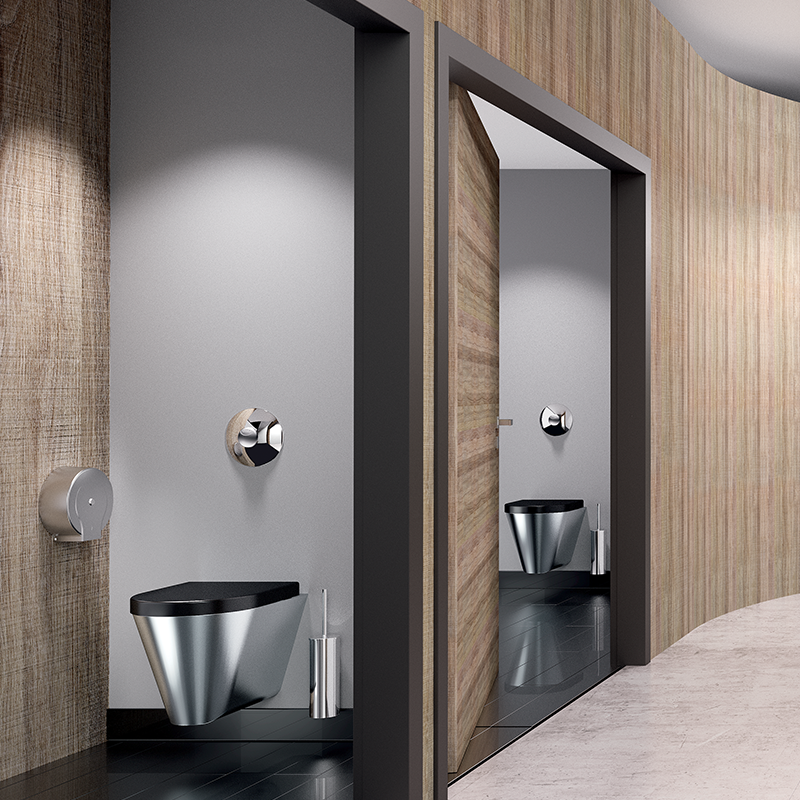 Refurbished on average every 15 to 20 years, sanitary facilities in public places are not known for setting design trends. Although slow to develop, this is slowly beginning to materialise.
Users now expect comfortable facilities that are not only clean and easy to access, but also pleasant to look at.
The owners and facility managers of public buildings are gradually discovering an interest in looking after their sanitary facilities, from both a design and a maintenance perspective. Hotels, restaurants, night clubs and exclusive bars are developing a certain "ambiance" for their washrooms.
Not to be outdone, shops, museums, cinemas, theatres, railway stations, airports, shopping centres, etc., are creating an aesthetic look that will make a favourable impression.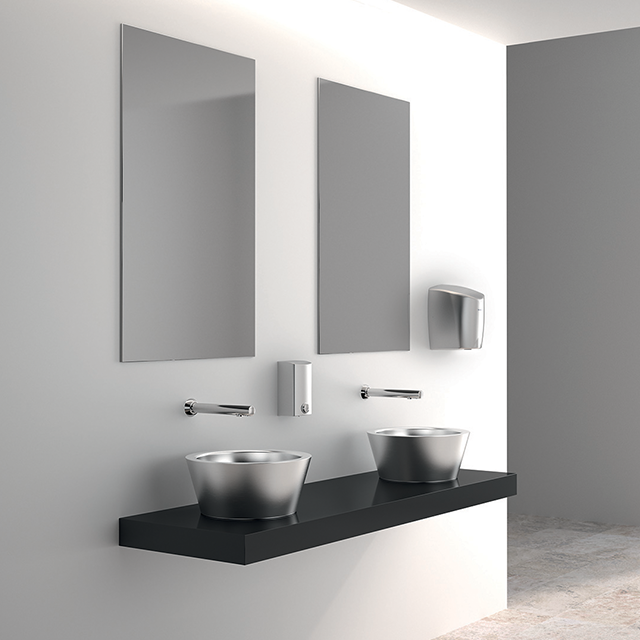 The image of a public building is reflected in its sanitary facilities.
Many people associate the quality of a building with that of its toilets!
Who is not pleasantly surprised by attractive, clean and comfortable toilets during a visit?
Conversely, who does not remember truly painful experiences with repulsive toilets which were dirty, malodorous, unattractive, dated, impractical or degraded?
It therefore follows that the budget for sanitary facilities frequently exceeds 10% of the investment in a new building.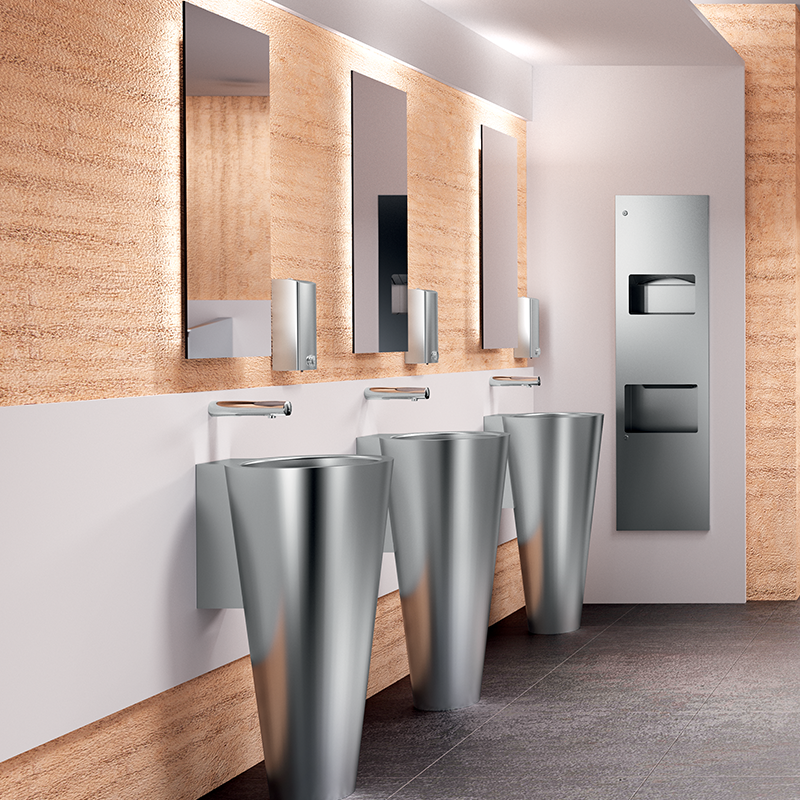 A specific universe
When called upon to enhance sanitary facilities, interior designers and decorators show as much skill and imagination as in other parts of the building.
The result is often remarkable: careful decoration, furniture selection, lighting effects, sounds, odour neutralisers and perfume, material effects, special effects, high-tech equipment... every detail is studied to solicit all the senses and create an atmosphere of well-being and cleanliness (sometimes even a whole universe) in which the user will take pleasure in being there.
At an average of 8 minutes per day, we spend almost 150 days of our life in toilet facilities (and the Japanese twice as long!).
It is reasonable to hope that the state of particularly pleasant and clean toilets will deteriorate less easily than the others.
Practical, hygienic, durable... and beautiful
Human civilisations from all over the world have invented ingenious solutions to satisfy their basic needs: pierced stone slabs, dating to around 2,500 BC, installed above channels with running water, have been discovered in China, Greece, Egypt and India.
Closer to our era, the Romans, champions of communal hygiene and well-being, left traces of highly decorative and sophisticated sanitary installations, incorporating mosaics and artistic objects. The history of sanitary facilities is rich in examples of luxurious installations, but which, by definition, were reserved for a privileged few.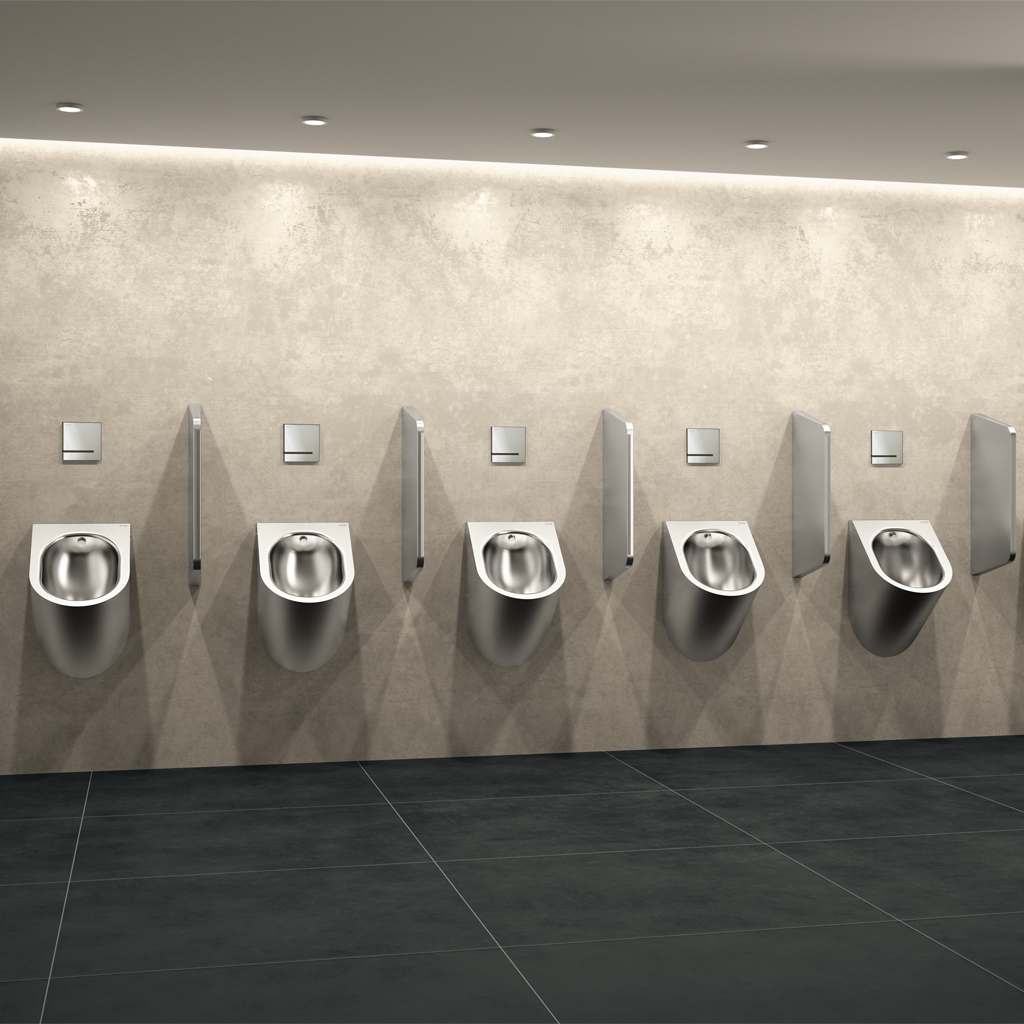 In the field of sanitary facilities, the last 10 years have seen a marked desire to make design accessible to a greater number of people.
Wood and stone are still the notable materials that are associated with modern sanitary spaces, as well as metal and glass.
On the equipment side, the main manufacturers offer ranges of water controls, accessories and/or sanitary ware with sleek lines, that remain faithful to the immutable taps and objects created by the Danish architect Arne Jacobsen at the end of the Sixties for domestic sanitary facilities.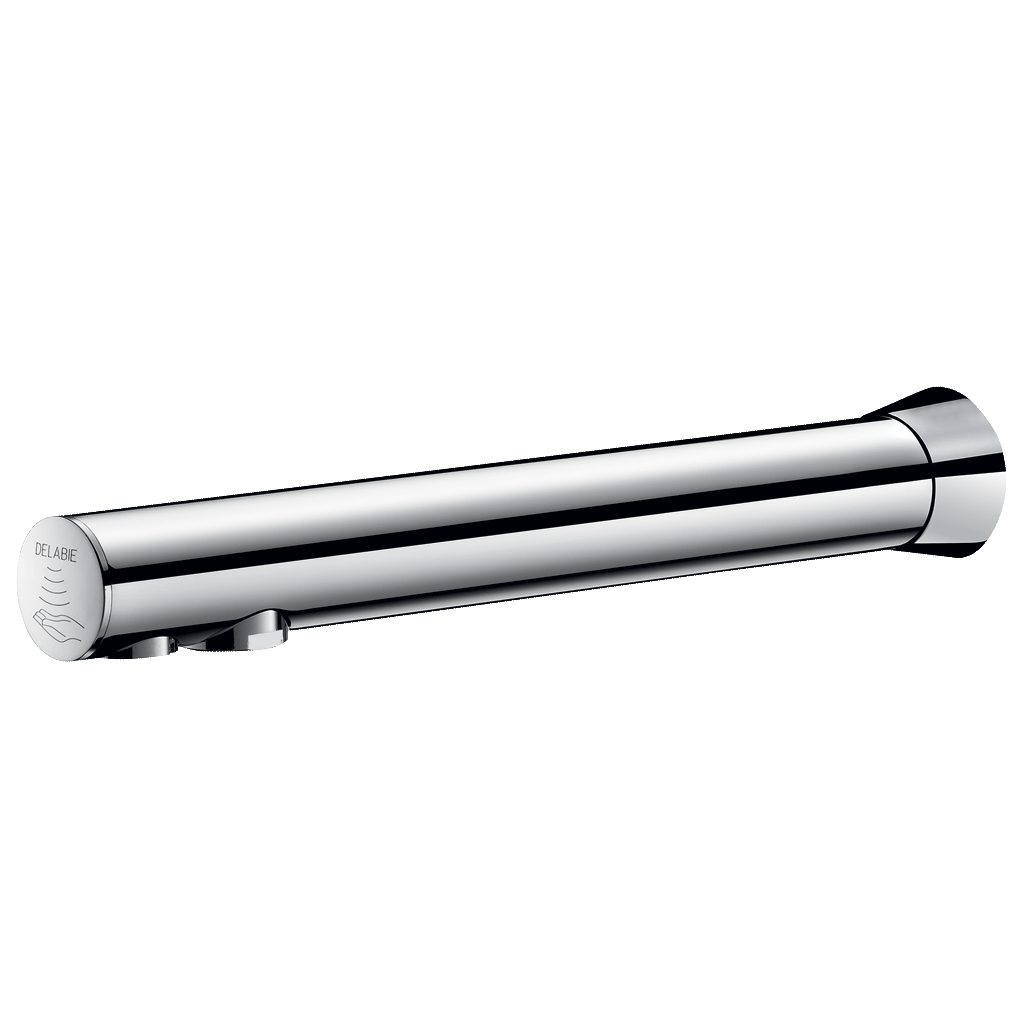 A trend at the heart of DELABIE
As the European leader in sanitary fittings for public and commercial places, DELABIE was aware very early on for the need to enhance its products by considering aesthetics as a major component.
WALL-MOUNTED BINOPTIC, its recessed electronic basin tap, was designed in 1974 and its timeless lines have remained virtually unchanged since then. Its minimalist design hides its highly technical and robust nature.
Just like the TEMPOMATIC 2 electronic basin tap, the TEMPOMIX 3 recessed shower mixer, or the SECURITHERM EP BIOSAFE range of mixers with decidedly modern designs.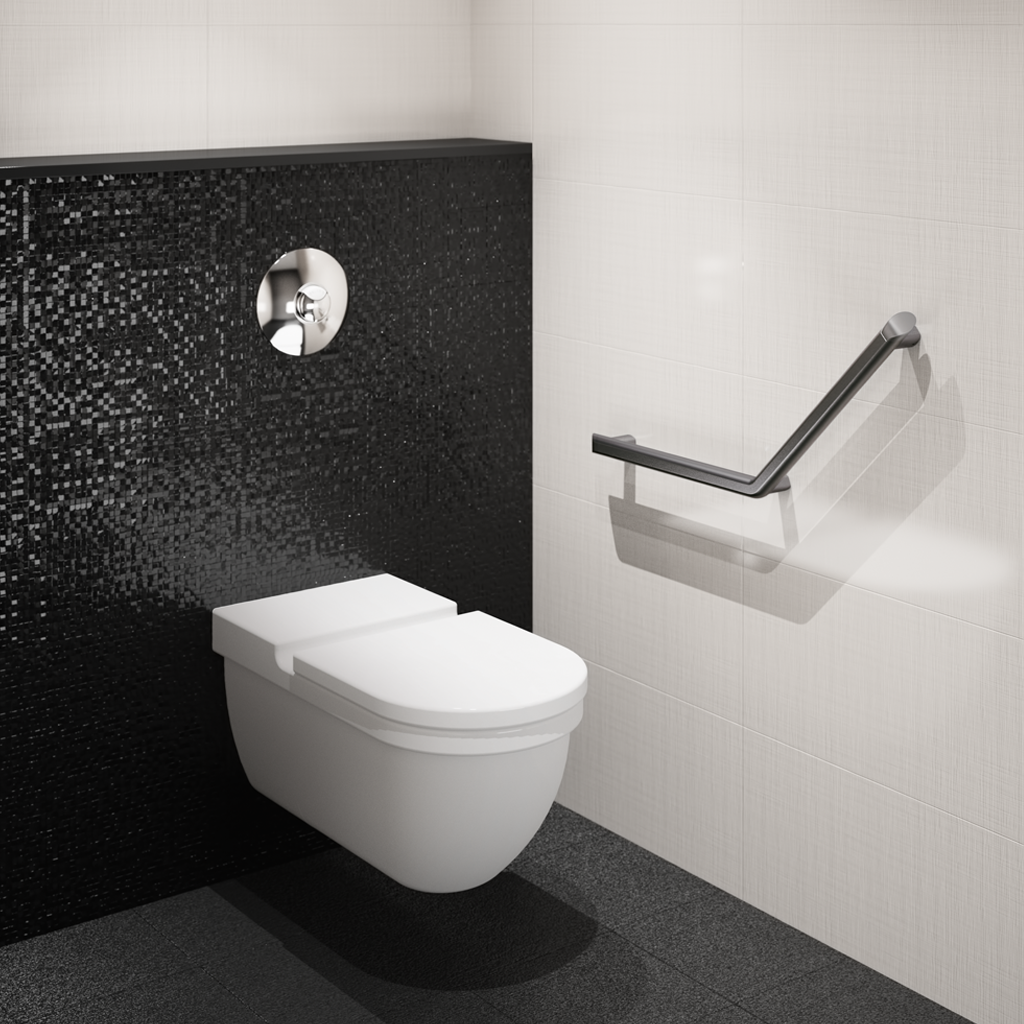 DELABIE has also introduced design to accessible washrooms for people with reduced mobility via its new Be-Line® range of grab bars and shower seats. Its innovative design combines aesthetics and comfort, which makes the shared use of sanitary spaces more agreeable for everyone.
The use of stainless steel, a material ideal for design purposes, is another example of the design trend at DELABIE.
Among its range of stainless steel sanitary ware for public and commercial places, the new ALGUI counter top basin is a truly decorative element for the top-of-the-range washroom, with its bright polished/polished satin finish which coordinates with any ambiance. Stainless steel develops a patina over time, enhancing the facilities.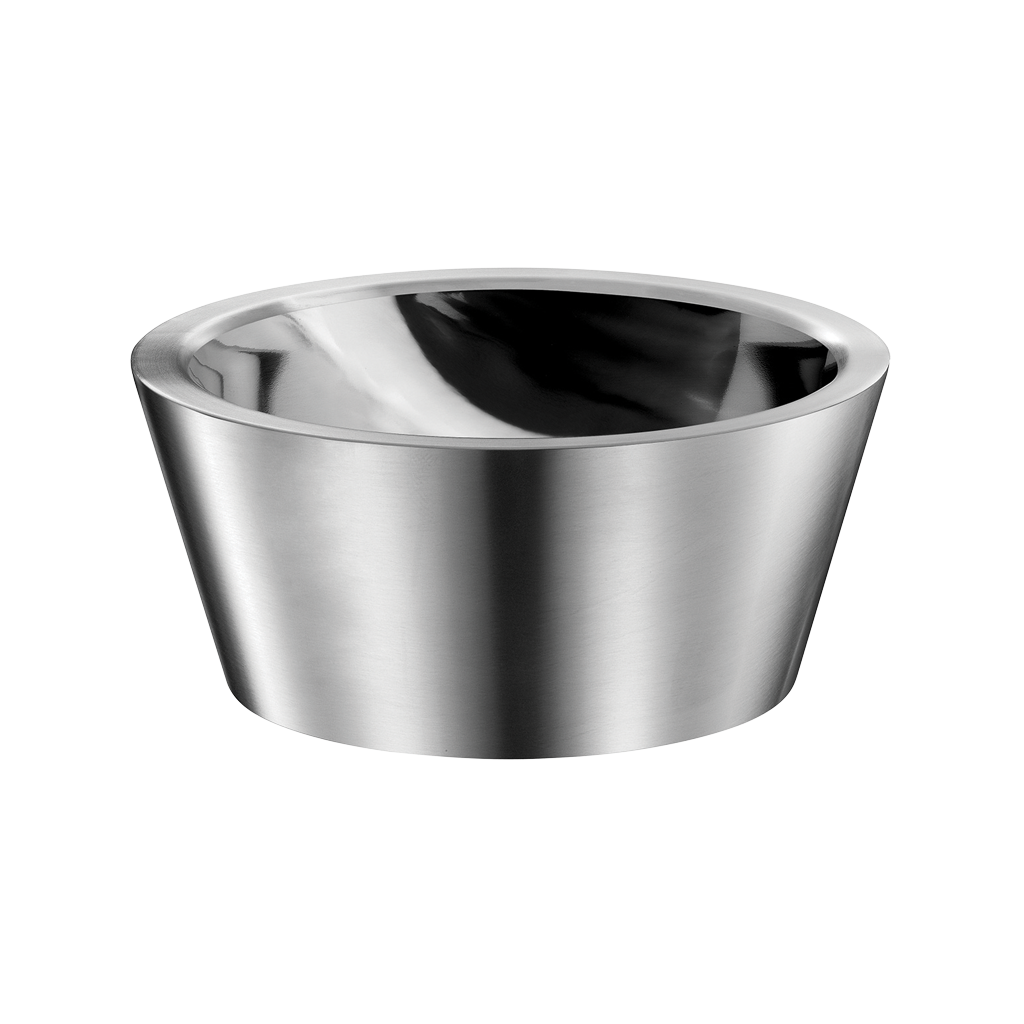 Affordable design
Over the next year, DELABIE plans to develop stainless steel equipment at very competitive prices, equivalent to those of ceramic.
This means cutting the prices almost by half!
"Stainless steel and design need not necessarily equate to high prices", says Luc Delabie, co-director of the group.
"We want to lower the manufacturing costs of stainless steel sanitary ware to ensure stable pricing, so that our clients can choose between top-of-the-range ceramics and stainless steel. This will open up their horizons so they can create beautiful and sustainable sanitary facilities."
While waiting for this small revolution, a DELABIE catalogue featuring design solutions is on its way.